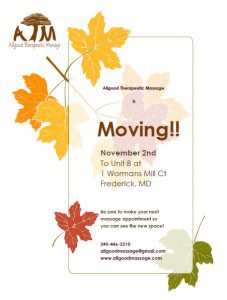 Exciting times here at Allgood Therapeutic Massage! For the last 4 years, I've been working out of Park Bench Chiropractic and think the world of Dr Rob and Dr Matt. However, with their practice growing and my practice growing, I've found that I need to "take it to the next level." So, in November, I'm moving up the street! Literally, only about 200 yards up the street. The address is technically on Wormans Mill Ct, but the office faces North Market Street.
With the new space, I'll be able to offer a better relaxation environment and a few more amenities to clients. I'm excited!!
Get in touch with me to get your appointment booked in the new space!